Lessons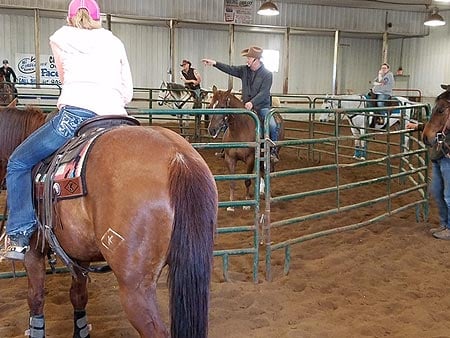 Krebsbach Performance Horses offers private individual or group riding lessons for all skill levels. Ken has years of experience teaching and evaluating riders. He loves to share his knowledge and expertise as a trainer and competitor. His instructions are easy to understand, direct, to the point and will get you positive results. Whether you ride at events or as a hobby, lessons are a great way to build your confidence.
We have an indoor heated riding arena which provides a safe and comfortable environment to learn and ride in. We offer lessons on horsemanship and lessons on cattle. You may also work your horse on the mechanical flag. The mechanical flag is great tool for practicing roll backs or to work on a problem situation repeatedly and consistently. Ken can cover topics from basic horsemanship skills to advanced techniques.
Ken has past and present clients that show and dominate on a local weekend level and others that haul and show at a national level. No matter what your ability is as a rider, it is a privilege to teach you and be a part of your success.