About Ken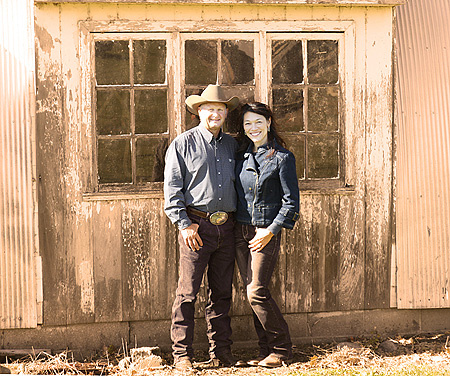 Born and raised in northern Minnesota, Ken grew up on a farm where he gained experience working with cattle and horses. He started riding at the age of 5, riding every chance he could get.
In 1986, Ken married his wife Annette. They stayed in Mahnomen, MN, to raise their son near family and friends.
In 2000, Ken decided to pursue a business in the horse industry and moved to southwest Minnesota leasing several different arenas/barns. The opportunity presented itself in 2013 to build his own equine facility. Building the new facility was a challenging and exciting endeavor and has proven to be very satisfying.
Over the years, Ken has traveled throughout the United States and Canada to many events. Annette loves to watch Ken compete and whenever possible will travel with him. It is especially enjoyable now that their grandson is starting to compete. They are hoping their granddaughter follows in her brother's footsteps!
Ken's Accomplishments:

2016 MRSA High Money/Year End Open Champion
RSNC National Championships 2nd Masters Class
RSNC National Championships 3rd & 4th #13 Class
RSNC National Championships 7th #14 Ranch Hand Class
RSNC National Championships 3rd Top 5 National Points Race
2015 USTPA World Championship 3rd & 5th Quick Draw Team Penning
USTPA World Championship 3rd #13 Team Penning
AQHA World Show 6th & 13th Open Ranch Sorting
AQHA World Show 12th & 13th Open Team Penning
MNSCHA High Money/Year End Open Champion
2014 USTPA World Champion #11 Class Team Penning
USTPA World Champion #11 Masters Class Team Penning
AQHA World Show 6th & 7th Open Team Penning
2013 Denver Stock Show Champion Open Team Penning
2012 AQHA World Show 5th Open Ranch Sorting
2011 AQHA World Show 6th & 11th Open Team Penning
2010 Calgary Stampede Reserve Champion Open Team Penning
2009 AQHA World Show Champion Open Team Penning
AQHA World Show 8th & 14th Open Ranch Sorting
2008 AQHA World Show 3rd, 9th & 11th Open Team Penning
Calgary Stampede Champion Open Team Penning
Calgary Stampede Champion #10 Class Team Penning
2007 AQHA World Show Champion Open Team Penning
AQHA World Show 6th Open Ranch Sorting
2006 AQHA World Show Reserve Champion Open Team Penning
2005 AQHA World Show Champion Open Team Penning
AQHA World Show Reserve Champion Open Team Penning
2000 AQHA World Show Champion Amateur Team Penning
AQHA World Show 8th Amateur Team Penning
AQHA World Show 3rd Open Team Penning
1998 AQHA World Show Top 15 Finalist Team Penning
1995 AQHA World Show Top 15 Finalist Team Penning