Welcome to Krebsbach Performance Horses and thank you for taking the time to visit our website!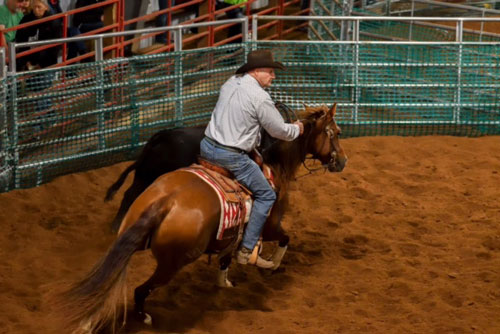 Krebsbach Performance Horses was established in 1992. It is a family owned and operated facility located in New Prague, MN, southwest of Minneapolis just minutes from Interstate 35 and US Highway 169. Owner/trainer Ken Krebsbach offers private and group riding lessons with or without cattle, onsite or offsite clinics, quality horses for sale, and horse evaluations.
Our facility was built in 2013 with the following amenities:
An indoor heated arena with excellent footing, lighting and ventilation
Heated stall area with wash rack
Modern facilities and heated lounge
Outdoor paddocks with shelters
Ample parking with easy access for trucks and trailers
Great location right off the blacktop
Minutes from hotels and restaurants

Ken takes great pride in his business and is known for his integrity in the horse world. He is an experienced trainer, coach, clinician, and an accomplished competitor with over 25 years of experience in the show pen on a local and national level. Ken is a 4 time AQHA World Champion, 2 time Reserve World Champion, along with other multiple Top 10 placings. He is also an AQHA point leader in team penning and ranch sorting. Ken has earned the title of 2008 Team Cattle Penning Champion in both the Open and #10 Classes at the Calgary Stampede. He also holds the arena record for the fastest time ever in team cattle penning at the Calgary Stampede. Ken is a 2 time USTPA World Champion with several USTPA Top 5 placings. Ken's successful horse show record is reflective of his hard work, dedication, and talent as a trainer and competitor.